At 39, I thought a joy-filled life was this:
Perfect marriage
Angelic children
Beautiful home
Lucrative career
Nice vacations
Savings in the bank
Life with constant happiness
I worked hard to achieve it.
I hustled tirelessly to uphold it.
At 41, I drove myself into the ground and lost almost all of it.
What I learned as a recovering workaholic is –
Joy is in the journey, not the destination.
AND…
The journey includes some growing pains.
Brené Brown calls this "being in the arena." – – –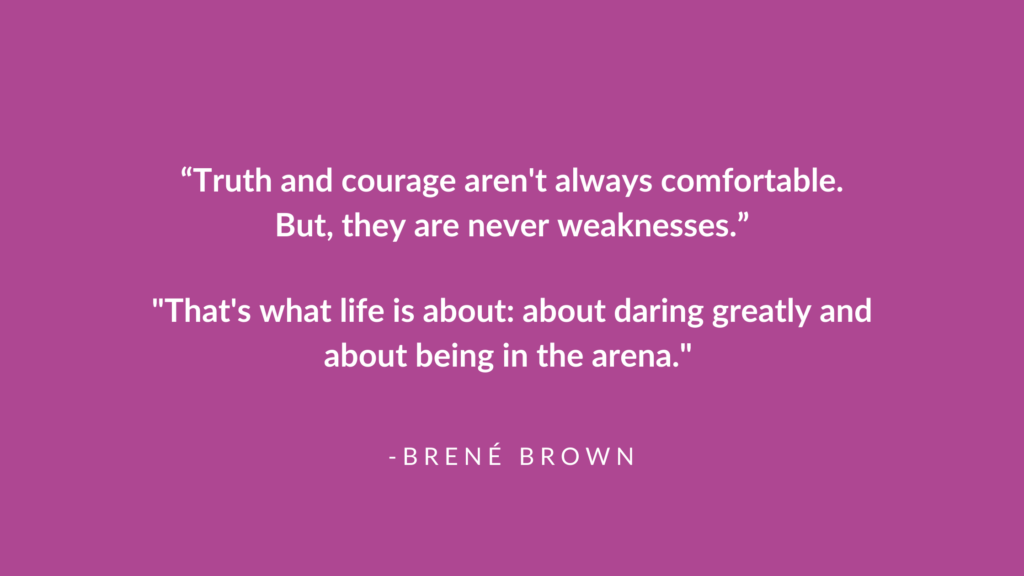 Paving a new path to my joy-filled life included a courageous journey that contained as much excitement and growth as it did self-doubt, worry, and heartbreak.
It looked like this:
Getting clear on the life I wanted to create.
At first, I had no idea what I wanted to create because I'd given up on dreaming. So, I clarified it by what I would no longer tolerate. Then, I felt the shame of tolerating that stuff in the first place.
Knowing what I stood for (a.k.a. my values).
I felt strong knowing what I stood for. Then I stood up, defended, and sometimes fell to the multiple challenges that tested it.
Doubling down on the stuff I was really good at (i.e. mentoring, creating vision, building strategies).
I battled my pride when I turned down a promotion and took a lateral job in a less stressful environment that allowed me to practice more of my strengths – p.s. it was one of the best choices I ever made.
Following my heart.
At first, I felt lost because my heart was hardened by years of wearing armor in the corporate world. With practice, I finally learned the difference between following my ego and following my heart. Today, I turn to my intuition to make the best decisions.
Learning new things.
Dancing, hiking, mountain biking, veganism, cooking, yoga, reiki, metaphysical healing. I was great at some things like cooking. I was bad at some things like mountain biking. I remained curious about other things like metaphysical healing. I took bits and pieces from each fun and awkward experience and discovered new people, new interests, and my purpose along the way.
Speaking up for myself.
20 years of working in a hierarchy slowly taught me to not speak out of turn. The once outspoken 20-year-old in me had to find her voice again. At 41, I could speak to a crowd of hundreds, but struggled to find the courage to advocate for myself. There were many times I showed up with a shaky voice and red face in order to be heard. But, I still showed up.
Simplifying my life.
With so many responsibilities, I always functioned with lists. My mentor challenged me to make a NOT TO DO list and stick to it. While that helped create much-needed relief and space in my life, it also triggered guilt and worry about saying "no" to certain things.
Saying goodbye.
Parting ways with a career, relationships, unnecessary expenses, and material things I knew were no longer meant for me didn't come without heartache and grief. It also came with opportunities I never could have imagined.
Savoring what's good (even when it was hidden in the bad).
As an over-achiever, I was constantly nagged by the ugly side of always needing to do more. Practicing gratitude helped me pause and savor each day. It changed my perspective about my challenges. More than that, it helped me appreciate my life was already enough. Sounds cliché, but true.
*****
I spent years believing a joy-filled life looked like perfection, comfort, and happiness.
Today, I believe a joy-filled life looks like empowerment, connection, and self-worth.
My journey with joy helped me create a new way of living.
At 49, this is what joy feels like to me:
Staying healthy
Loving my family
Helping people
Making money
Making new connections
Experiencing new things
Learning and reading
Traveling to new places
My journey was filled with highs, lows, triumphs, failures, forward steps, side steps, and several missteps.
And, each step filled me with power knowing it was designed by me, for me, to live the joy that was meant for me.
And, I know the power is in you to do the same.
Xo,
Alyson