When I was 24, my boss called me a nobody. Of all the things you can say to someone, I think calling someone a nobody is probably one of the worst. It hits somewhere very deep, a place we don't often talk about in public, or at all for that matter. Never mind that he read one of my emails where I called him a 'freak.' (newsflash: don't ever write about your boss in an email, you could get caught). For the record, he was a freak and called me a nobody in front of the entire office. It hurt.
That incident didn't hold me back from achieving success in my career, and it wasn't the last time I was ever insulted. But I have never forgotten that day, nor how I felt. Oh sure I had my Lily Tomlin from '9-5' moment where I stood up for myself, grabbed my purse, and left the office in a powerful exit. But I also remember crying and then calling my mom from a pay phone. This was 1997 and who else do you call when you are 24, just quit your job, and feel completely lost?
When I look back through time, I wonder how many other episodes like this have secretly eroded my confidence and softened my voice and made me believe I indeed was small. There are countless times I chose not to speak up in a meeting, felt that my opinion didn't count, and believed I didn't have any influence. Where and when did I learn that?
I am here to tell you that we are all here to create something special in our lifetime. And if we keep ourselves small, that specialness will never shine. You matter and the world needs your greatness!
Here are 7 ways to show up in this world as big and beautiful…leave your small self at the door.
Believe you are somebody. We are all here to make a difference
Grab a notebook and a pen. Then, ask yourself…what do I want to be known for? Write down everything that comes into your mind. Serving others? Preserving the earth? Restoring old homes? Making others happy through art? Leading the largest global company? Being kind? Building a community? Raising amazing human beings? Being adventurous? Saving animals? Oh the list can be endless! Write it all down. Give yourself two mins and keep writing until the thoughts stop coming.
Now take a moment to review your thoughts. Do you see any patterns or common themes? Do you desire to provide service? Are you a creator? A leader? A healer? An influencer? A coach? I'd love to know what showed up for you, please share it with us.
Getting focused on how you want to be remembered, your legacy, will help guide you with how you choose your work, live your days and show up in your relationships. We are all on this beautiful earth and in this beautiful life to do something very special. Never forget that.
Declare your values and get busy living them.
Life experiences, self-development books, and workshops helped me get clear about my values. Here's a summary that will will help you get clear about yours in minutes.
With your notebook handy, ask yourself – 'who do I most admire?' If it is more than one person, that's ok. Hold them in your thoughts. What is it that you admire? Give yourself a minute as you write it down.
Now take a moment to reflect. What stood out to you? What words jumped off the page? Identifying what you find inspirational in another person is an actual representation of what you value. Did anything surprise you?
Here's the hard part, try to narrow your list to two values. Why only two? Because A. you need to be super clear about what drives you in life (and remembering 2 values is easier than remembering 10) and, B. most of the values you listed are derived from a main theme.
My two values are TRUTH and COURAGE.  Here is how they work for me:
Finding the truth in myself, my relationships, or any given situation helps me to see clearly. Seeing truth clearly gives me the courage to honor it. Acting in truth helps me be authentic. Truth removes the confusion of what I need to do. It gives me faith that I am choosing wisely. During the times in my life when I have demonstrated unwavering strength, it is because I was honoring my truth.
Courage propels me forward. It fuels me with resilience when times become tough and it forces me to uncover all the ways to accomplish a goal. Courage helps me evolve into a greater version of myself.
Truth helps me to see clearly and courage helps me to act. These two values have helped me navigate an amicable divorce, embark on a major career transition, and stay steady while raising children. Never perfectly, sometimes painfully, and always with the best intention.
Being very clear about your values makes it so much easier to lean into them when making choices for yourself. I would love to know your two values. Please share with us!
Know your strengths and use them.
Living your strengths every day will change your life! This is not an exaggeration. When you lean into your strengths, you are not only living your life in a way that is comfortable and unique to you, but you are more likely to succeed at achieving goals and navigating everything that life presents to you.
Not to mention, it is so much easier to lean into your natural talents instead of trying to improve those that aren't.
Think of this as simple math:
10 x 10 = 100 vs. 10 x 1 = 10
This is a scale of 1-10 with 10 being the highest. If you put your highest investment into your highest strength, the result is 10 times the outcome than if you put your highest investment into your lowest strength.
You can identify your strengths by asking yourself a few questions:
What kind of activities are you naturally drawn to?
When you think about your work or your hobby, what type of activity fuels you with energy? And likewise, what absolutely drains you?
What activities or tasks do you pick up very quickly?
Think of one of your greatest successes. What did you do that made it a success?
Think of a moment when you are fully in a zone and are so engaged with what you are doing that everything around you disappears. What are you actually doing? What about that task makes it so appealing to you?
Finding the patterns and themes in the answers to these questions will help you start to reflect on what is natural for you. Being able to name these characteristics and talk about them will help you be more deliberate about putting these strengths into action.
For instance, if you are drawn to meeting new people and striking up personal conversations, how might you put your ability to build relationships through conversation into action to solve a challenge in your life?
Find your voice and let it be heard – what's obvious to you is not to others. Go tell your story!
'We all have our own story to tell. It's our right and our duty to let it be known to the world. That's why we are here in the first place.'
My father was the greatest storyteller I knew. His life was filled with the most ridiculous experiences and he always spoke about them with such color, most of them shared with the intention of imparting wisdom. For years he talked about writing a book, multiple books actually. He even went so far as to come up with a few titles. My father passed away peacefully in hospice in September 2019. That quote you read above is the one I wrote in the journal I gave him weeks before he died. Needless to say, he never wrote a book, nor was able to use his journal. And that makes me terribly sad. I wish the world had record of his experiences in the way that only he could tell them.
You don't need to be powerful or famous or an expert to share your voice. You simply need to be you. No one in this world can tell the same story as you. The world is begging for you to tell it, to share it, so that we can all learn from it. What has become apparent to you is enlightening to someone else.
Make choices that support your highest good. The universe takes care of those who are brave enough to do it.
When you are courageous enough to make decisions in your best interest, it is incredible how things happen in your favor. Years ago I passed up the chance to be promoted. Instead I took a lateral position to remove myself from a toxic work environment and to lead work that was more aligned with my life's purpose. What made the decision tough is that I really needed the increase in salary to support my household. I was newly divorced and trying to figure out how to thrive as a single woman and mother. I followed my heart and took the lateral position. Within weeks, my new boss approached me and explained that I would be receiving a salary adjustment to match the increase in my scope of work. I remember driving home that day and crying with gratitude because I felt like a higher power was taking care of me.
I'll bet you can recall moments like this, too. And I'll also bet that in those moment you were taking action to support your highest good.
Growing into your greatest self requires making choices that support your greatest good.
Let in love and let out fear. What you put into the universe, you receive.
Oh this is a subject I can speak about for hours. In summary, our bodies are made of energy. There is positive and negative energy and varying degrees in between. The energy we carry in ourselves is exactly what we attract to ourselves.
I believe that fear is the root of all negative energy and that unconditional love is the highest of all positive energy. Our goal as humans is to let go of negative energy and let in positive energy.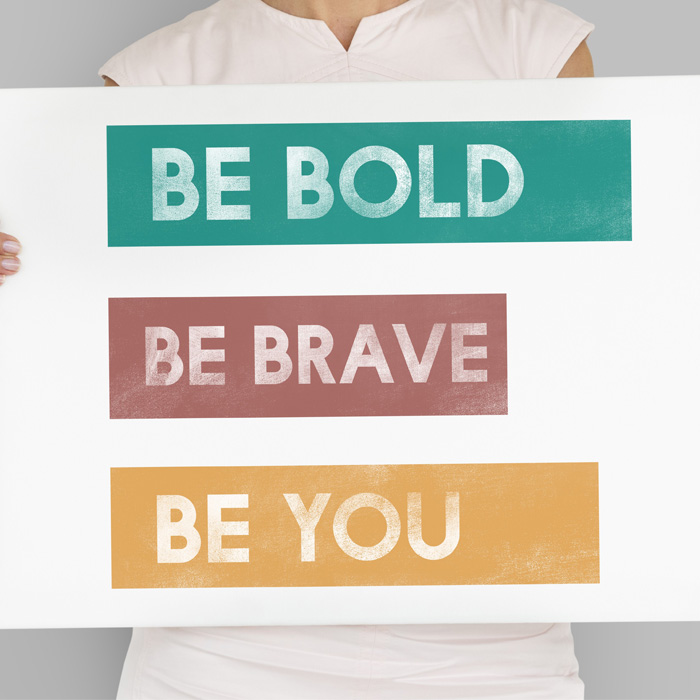 The next time you feel a negative emotion rise within you, take a moment to ask yourself why.
I have been arguing so much with my teenage son lately. So much, that I had to stop myself to figure out how to let go. My son has been resisting all of my guidance lately and it is turning in to a game of control and sparking epic fights between us. Finally I asked myself-
Why is this bothering me so much?
Answer: Because he is not listening to advice I give him.
Why is it important for him to listen to my advice?
Answer: so that he can have an easier experience.
Why does it matter if he has an easier experience?
Answer: so that he can be happy.
Why does being happy matter?
Answer: because it means I have done my job as a mom.
Why is it important?
Answer: because if he is not happy then I am a failure.
Bingo. My fear of failure is the root of almost every argument that I have with my son. And yet, the longer I hold onto that fear, the more I become controlling and create scenarios where I am failing as a mom. Now that I am cognizant of this, it is easier for me to let go of my fear and approach my son with love, not control. I can't say it's perfect, but it certainly is shifting.
Ask yourself the 5 why's to get to the heart of what you are really holding onto. Face it and then let it go.
Choose abundance vs. scarcity. The more you whole-heartedly give, the more you will receive.
An abundance mindset believes that there will always be more. Conversely, a scarcity mindset believes that there will never be enough.
When you freely share your knowledge, experience, advice, tips, contacts, resources, etc., you build relationships and collaboration with others that are grounded in trust and generosity. This behavior builds reciprocity and community. Community is essential to remind us that we belong to something bigger. And from that bigger network there is an endless source of support, resources, opportunity, and strength.
To live with an abundance mindset, you must let go of fear. You must also let go of the mindset that you are alone. Let go of holding on tightly and have faith that there is an abundant source of goodness. Believe that you deserve it. Find gratitude in everything that you already have. Don't be afraid to ask for help as much as you give it. You will be surprised how much others are willing to help you achieve success. Your world is an endless resource for you.
The tendency to keep ourselves small comes from a lifetime of messages that teach us that we don't matter. You were brought into this world for a reason and now is not the time to dim your light. When you live as your greatest self, you give others the permission to do the same. Get busy being your big and beautiful self and inspire others to be beautiful too.
Raising Beauty guides highly driven people from burning out to leading bold, beautiful, and meaning-filled lives that feel like joy, power, and freedom. If you are ready to start living the bigger, better, bolder life that you were born to lead, schedule time to speak with me. We'll chat to see what feels right for you.
Beauty starts here, with you.